Manoir Maplewood was built in 1864 by entrepreneur and Senator Asa Belknap Foster. At the end of the 19th century, the manor was converted into a boarding school for girls. The declining religious population prompted the Sisters of the Holy Names of Jesus and Mary to dispose of the former Maplewood Convent in 1989.
In the years that followed, the derelict manor deteriorated considerably, until Valérie Arseneau and Martin Bouchard acquired it in 2012. After more than three years of restoration work, carried out with love and passion, Manoir Maplewood is finally open to the public.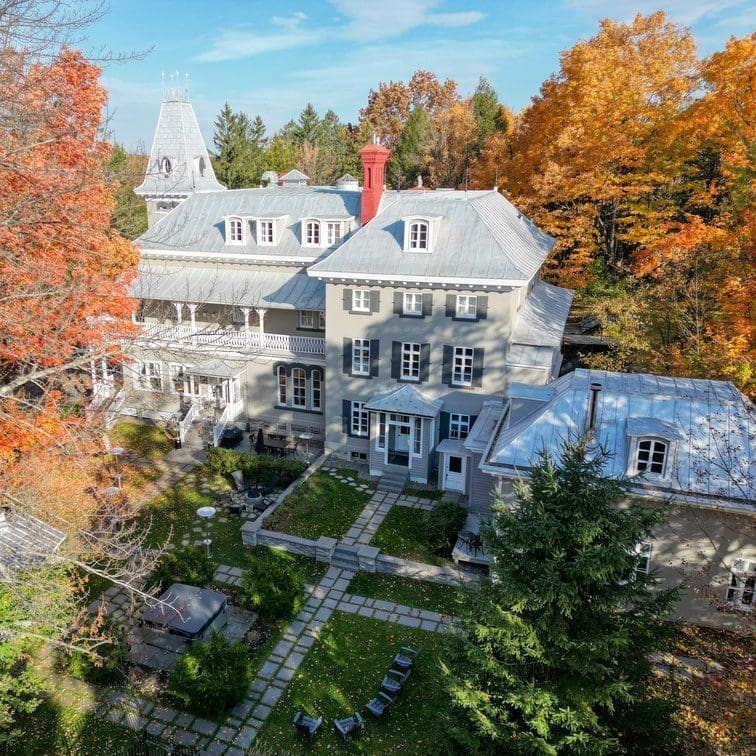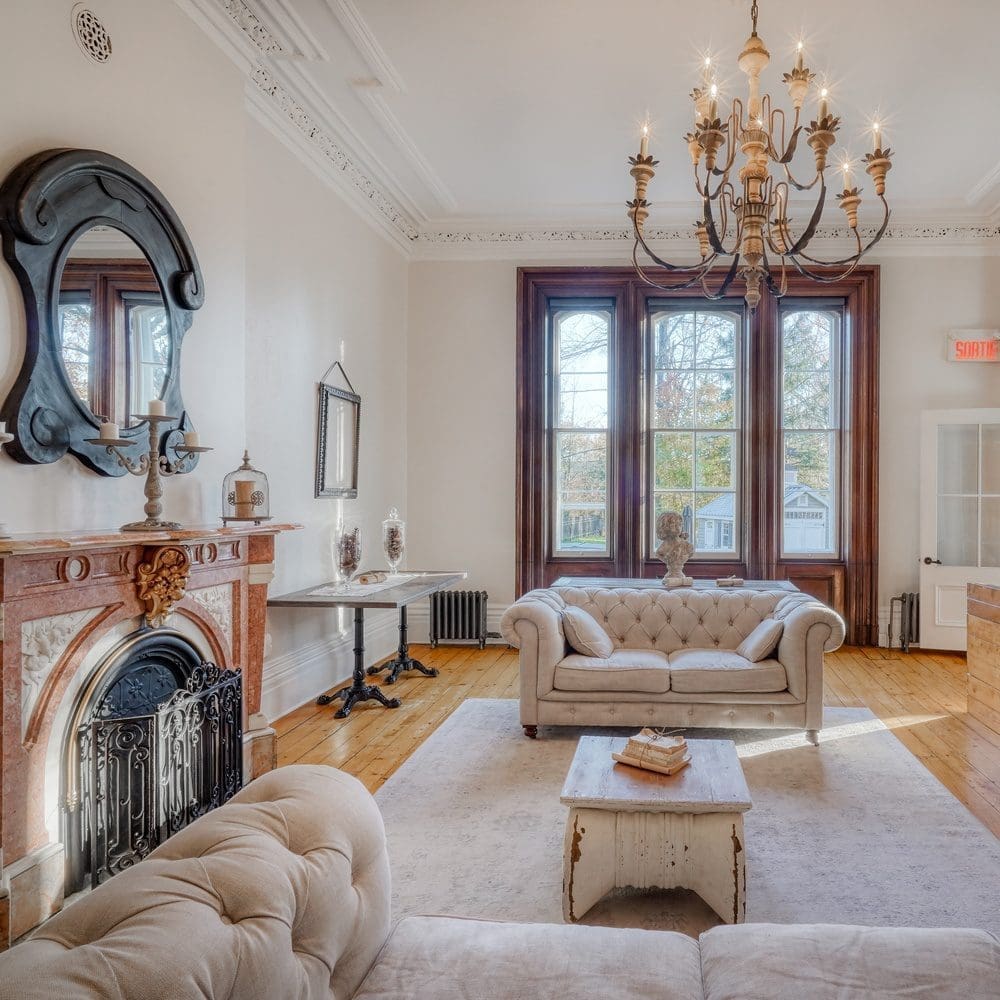 Let yourself be charmed by the refined, bucolic ambience of Manoir Maplewood. Discover a new concept: the fully flexible stay, which allows you to book the entire manor according to your whims and needs. Whether you're planning a grand wedding or an intimate family retreat, come and discover the manor and its serene country luxury.
Manoir Maplewood offers eighteen elegant guest rooms, each equipped to accommodate up to 56 guests, ensuring an unforgettable experience. Whether you're looking for standard rooms, luxurious suites or a spacious dormitory, our manor adapts to all your events, ensuring a pleasant and comfortable stay for all your guests. Discover the warm ambience and attentive service of Manoir Maplewood, for an exceptional stay.
4 rooms with a Queen bed and double bed-cabin; for a total of 16 people.
8 rooms with a Queen bed; for a total of 16 people.
1 room with a Queen bed and single bed; for a total of 3 people.
1 room with a double bed and double sofa bed; for a total of 4 people.
2 rooms with a double bed; for a total of 4 people.
1 dormitory room with 4 Queen wall beds and 1 double cabin bed; for a total of 10 people.
1 room with a Queen bed and 2 single beds; for a total of 4 people.
Stroll through Waterloo Village and discover the array of bars, bistros and restaurants that line Foster Street: craft beers, bakeries, pastries, coffee and healthy smoothies await you. To cook a meal with the whole family, stop by Foster's Market, which offers a vast selection of local products.
Drive by the Chemin des cantons, where you'll discover the history of Waterloo, passing by the many architectural traces of the different waves of settlers who came to the region. Museums, heritage tours, Maison de la culture and events of all kinds will give you an experience of places where past and present meet.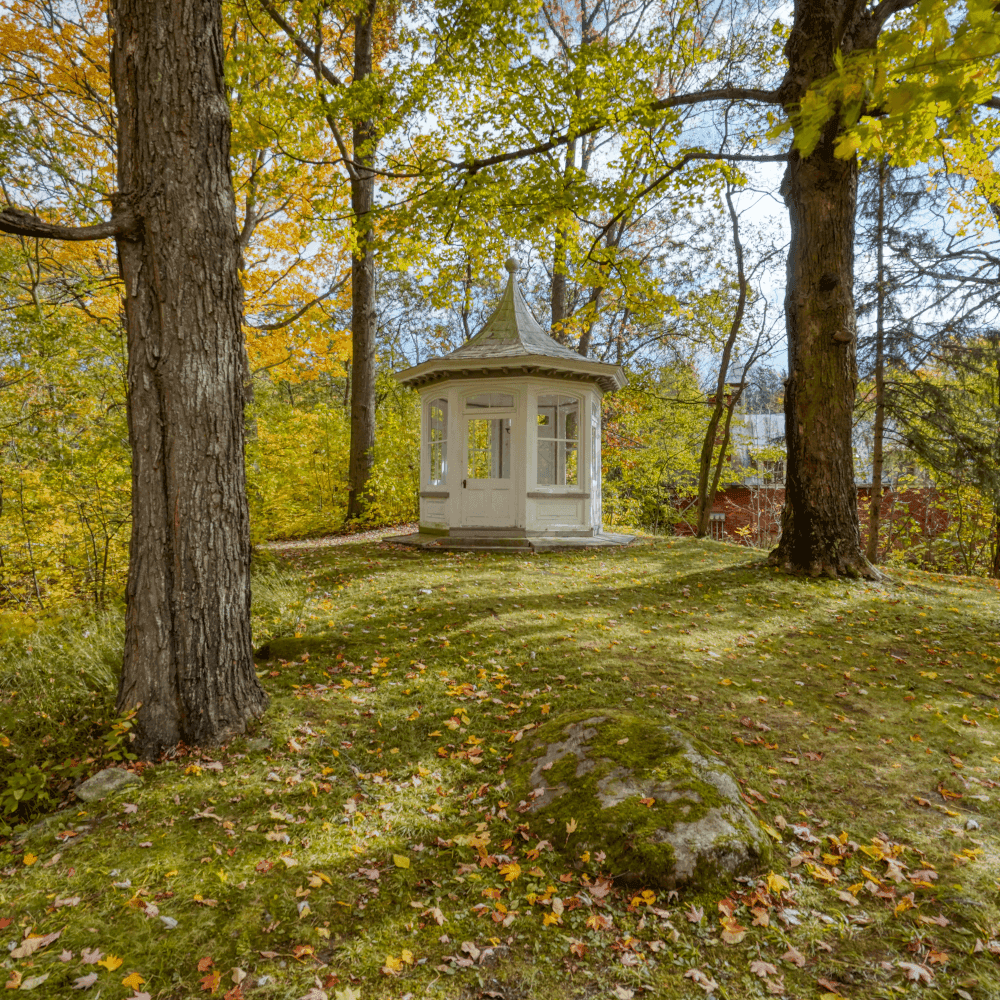 Enhance your stay with a visit to the spa: try Spa Bolton, which offers a wide variety of massages, facial and body treatments, manicures, pedicures and yoga workshops. Enjoy an experience in symbiosis with nature & visit the Balnea spa in Bromont: built with respect for the environment, this spa integrates the landscape, light and ambient temperature into its massages and treatments.
Come and relax at Waterloo Lake's municipal beach, or take advantage of the many activities offered on site, including water games, volleyball courts and picnic areas. Kayaks, paddleboards, canoes, water bikes and pedalos are also available. Golf and tennis enthusiasts will also find plenty to enjoy at the Waterloo Golf Club and the François-Godbout Tennis Club.
Waterloo is a meeting point for cyclists in the Eastern Townships, thanks to the convergence of three major bike paths. L'Estriade will take you to Bromont and Granby, while La Campagnarde will take you to Valcourt and Drummondville, and La Montagnarde to Eastman and Magog. For BMX enthusiasts, the 285-metre asphalt track – the largest of its kind in Quebec – offers new challenges for regular cyclists.